Toyota Sienna VMI Northstar E™ with Access360®
At MobilityWorks you will always find the newest innovations in adaptive equipment. The Toyota Sienna Northstar E with Access360 is a wheelchair van conversion for caregivers, offering an incredibly-simplified, manual, in-floor ramp and flexible seating, which allows caregivers to sit next to the wheelchair user. Like VMI's full-power Access360 conversions, the Northstar E  offers more interior space and headroom than any other caregiver-centric wheelchair-accessible vehicle, making it ideal for large wheelchair maneuverability.
VMI Northstar E™ Toyota Sienna Wheelchair Vans for Sale
Easy to Use

Caregivers of any size or age can easily deploy and replace the ramp with little effort and no bending.
High Capacity Ramp

Ramp has a wide usable area and an 800-pound weight capacity to accommodate large wheelchairs.
Removable Seats

The front-passenger floor is free of obstacles to accommodate wheelchairs of almost any size.
VMI Northstar E™ with Access360® Dimensions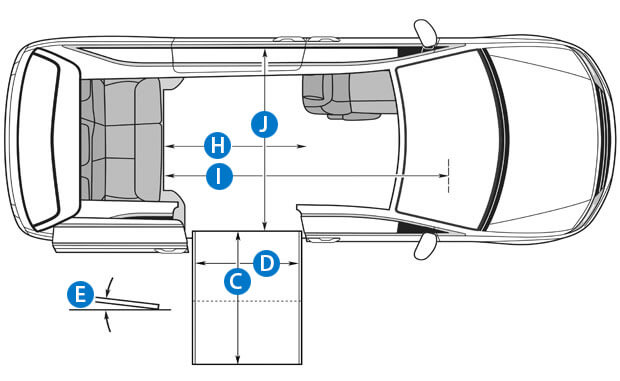 Name of Conversion
VMI Northstar E
Make and Model
Toyota Sienna
Fold-Out / In-Floor
In-Floor
Full / Partial Cut
Full Cut
G
Height at Front Row Position
61"
H
Floor Length (Behind Seats)
65.5"
I
Overall Floor Length (Flat Area)
94.5"
Removable Front Row Seats
Passenger Only