VMI Dodge Northstar E™ Manual In-Floor
The Northstar E is VMI's most affordable wheelchair van and it is tailored specifically to the needs of wheelchair users with caregivers. It is the only caregiver vehicle to offer front-seat wheelchair access, a manual in-floor ramp that requires no bending or lifting, and seating for up to seven passengers.
VMI Northstar E™
Dodge Wheelchair Vans for Sale
Easy to Use

Caregivers of any size or age can easily deploy and replace the ramp with little effort and no bending.
In-Floor Ramp

The manual in-floor ramp of the Northstar E has a 800lb capacity and is easy to stow and deploy.
Flexible Seating

The caregiver has the option to sit next to the wheelchair user in either the front or middle row.
VMI Northstar E™ Manual In-Floor Dimensions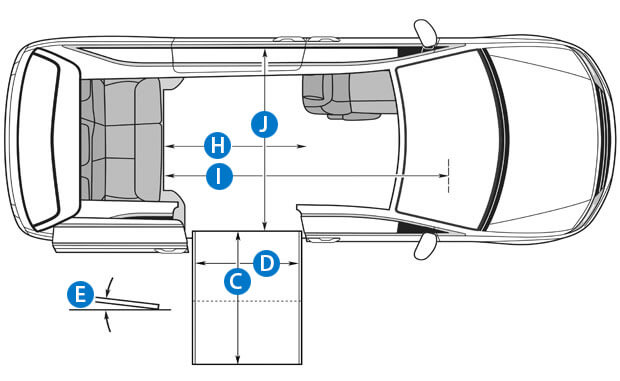 Name of Conversion
VMI Northstar E Manual Infloor
Make and Model
Dodge Grand Caravan
Fold-Out / In-Floor
In-Floor
Full / Partial Cut
Full Cut
G
Height at Front Row Position
58.1"
H
Floor Length (Behind Seats)
61.3"
I
Overall Floor Length (Flat Area)
86"
Removable Front Row Seats
Passenger Only