VMI Chrysler Pacifica Northstar® with Access360® Power In-Floor
The VMI Chrysler Pacifica wheelchair van has superior interior space, 360˚ maneuverability, interchangeable seating, and in-floor ramp with one of the automotive industry's most stylish and technologically equipped van.
VMI Northstar® Power InFloor
Chrysler Pacifica Wheelchair Vans For Sale
High Capacity Ramp

The in-floor ramp is 30" wide with 1000 lb weight capacity to accommodate large power wheelchairs.
More Space to Maneuver

Access360 provides more space to enter the vehicle and maneuver inside and has removable front seats.
Obstruction-Free Doorway

The in-floor ramp provides safe entry and exit without deploying the ramp for able-bodied passengers.
VMI Northstar® Power In-Floor Dimensions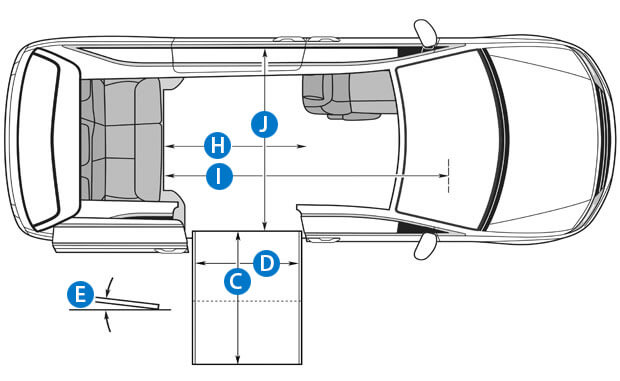 Name of Conversion
VMI Northstar® Power Infloor
Make and Model
Chrysler Pacifica
Fold-Out / In-Floor
In-Floor
Full / Partial Cut
Full Cut
G
Height at Front Row Position
60"
H
Floor Length (Behind Seats)
65.8"
I
Overall Floor Length (Flat Area)
91.5"
Removable Front Row Seats
Both