Honda Odyssey with Vantage Mobility Northstar® Conversion
The Vantage Mobility Northstar in-floor conversion provides 55" doorway height and a full 59" at the center inside the vehicle. Standard features include a power ramp, power kneeling system and removable front seat bases. The powered slide-out ramp on the Northstar has a durable 1,000-pound capacity capable of handling larger powerchairs.
The Honda Odyssey now comes with ParkSmart™, a programmable power liftgate, VMIQ™ One Touch Electronic Control, Honda Safety Sensing®, Apple CarPlay® and many other high-end features.
ParkSmart™ is a parking sensor specifically designed to alert individuals with an audible message when their vehicle or object is obstructing the ramp.
Removeable and interchangeable driver and passenger seats for optimal flexibility.
Lighted ramp for easier navigating in darkness.
Vantage Mobility Northstar Honda Odyssey with In-Floor Ramp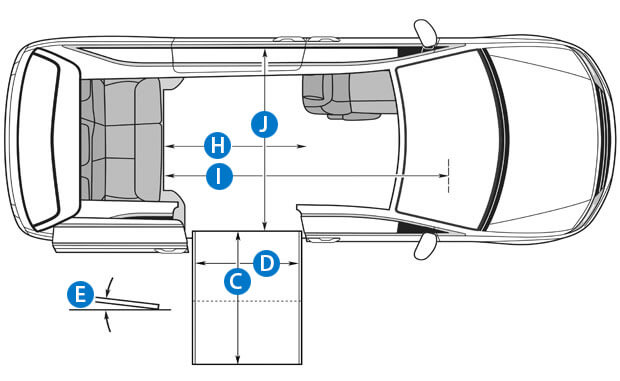 Name of Conversion
Vantage Mobility Northstar Power In-Floor
Make and Model
Honda Odyssey
Fold-Out / In-Floor
In-Floor
Full / Partial Cut
Full Cut
G
Height at Front Row Position
58"
H
Floor Length (Behind Seats)
59"
I
Overall Floor Length (Flat Area)
92"
Removable Front Row Seats
Both