BraunAbility® Honda Odyssey Power In-Floor
At MobilityWorks you will always find the newest innovations in adaptive equipment. Built on the 2018-2019 Honda Odyssey this conversion has an extended cabin for better maneuverability. The new in-floor ramp system makes entering and exiting easier for both wheelchair users and ambulatory passengers.
BraunAbility® Power In-Floor Honda Odyssey Wheelchair Vans for Sale
Power In-Floor Ramp

The power in-floor ramp allows ambulatory passengers to enter and exit without deploying the ramp.
Removable Front Row Seats

The Honda Odyssey Power In-Floor conversion has easy to remove front driver and passenger seats.
Rear Storage

The Honda Odyssey Power In-Floor retains rear storage space for your everyday needs.
BraunAbility® Power In-Floor Dimensions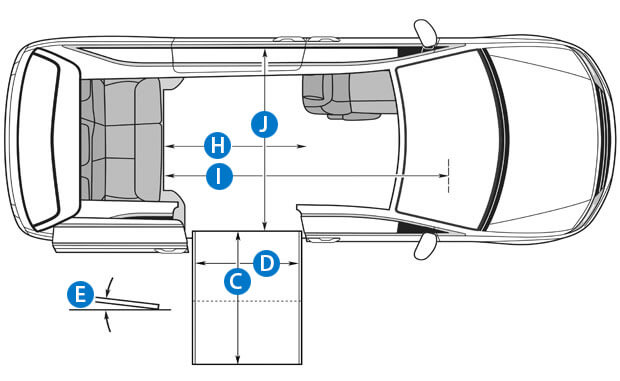 Name of Conversion
BraunAbility Power In-Floor
Make and Model
Honda Odyssey
Fold-Out / In-Floor
In-Floor
Full / Partial Cut
Full Cut
G
Height at Front Row Position
58"
H
Floor Length (Behind Seats)
59"
I
Overall Floor Length (Flat Area)
92.5"
Removable Front Row Seats
Both