BraunAbility® Chrysler Pacifica Power Fold-Out XT
At MobilityWorks you will always find the newest innovations in adaptive equipment. The BraunAbility Chrysler Pacifica Power Foldout XT has a 57 " doorway height and 60″ interior height to accommodate taller wheelchair users.
BraunAbility® Fold-Out XT Chrysler Pacifica Wheelchair Vans For Sale
Power Fold-Out Ramp

This power fold-out ramp deploys easily onto curbs with a 1,000 lb ramp capacity.
Removable Front Row Seats

The Chrysler Pacifica Power Fold-Out conversion has easy to remove front driver and passenger seats.
Foldaway Footrest

Full-width, third-row foot rest for up to 3 passengers, the most in the industry.
BraunAbility® Power Fold-Out XT Dimensions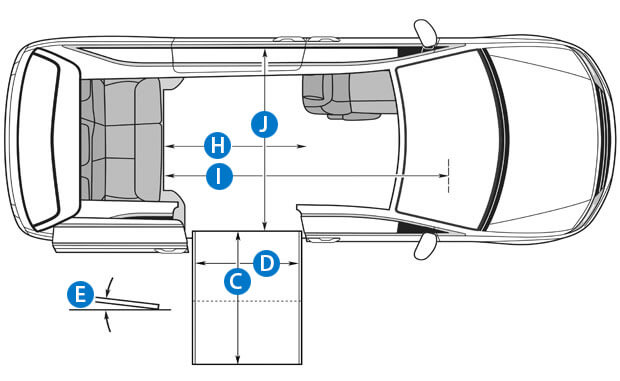 Name of Conversion
BraunAbility Power Fold-Out XT
Make and Model
Chrysler Pacifica
Fold-Out / In-Floor
Fold-Out
Full / Partial Cut
Full Cut
G
Height at Front Row Position
60"
H
Floor Length (Behind Seats)
71"
I
Overall Floor Length (Flat Area)
98.5"
Removable Front Row Seats
Both