BraunAbility® Chrysler Pacifica Power In-Floor
At MobilityWorks you will always find the newest innovations in adaptive equipment. The BraunAbility Chrysler Pacifica Power In-Floor features patent-pending  technology, creating the widest door opening and side-entry ramp in its class. These engineering breakthroughs ensure superior maneuverability and improved ease of entry and exit for wheelchair users.
BraunAbility® Power InFloor Chrysler Pacifica Wheelchair Vans For Sale
Power In-Floor Ramp

This power in-floor ramp is extra-wide with a 1,000 lb capacity and stows out of sight.
Removable Front Row Seats

The Chrysler Pacifica Power In-Floor conversion has easy to remove front driver and passenger seats.
Rear Cargo Space

This conversion has ample cargo space behind the rear bench seat.
BraunAbility® Power In-Floor Dimensions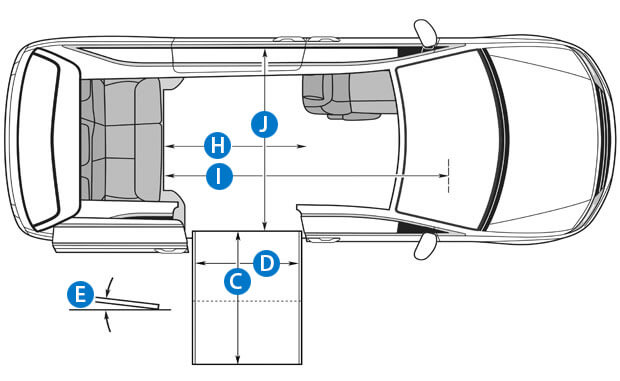 Name of Conversion
BraunAbility Power Infloor
Make and Model
Chrysler Pacifica
Fold-Out / In-Floor
In-Floor
Full / Partial Cut
Full Cut
G
Height at Front Row Position
61"
H
Floor Length (Behind Seats)
66.25"
I
Overall Floor Length (Flat Area)
98"
Removable Front Row Seats
Both