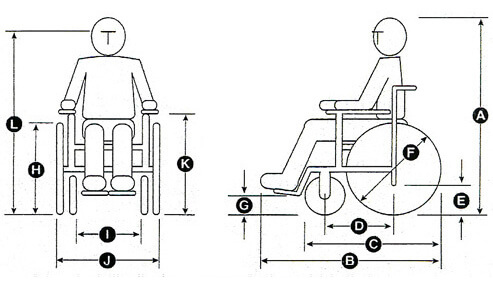 Measurement for Wheelchair Vans and Wheelchair Lifts
Selecting the right wheelchair van or chair lift for your needs starts with knowing your particular height and width measurements, in addition to other information that may affect the type of ramp, lift or adaptive equipment we may recommend. Not all wheelchair ramps, lifts and tie-down systems will work for every type of wheelchair. Door height, ramp width, lift capacities, seating position inside the van and wheelchair tie-down locations all need to be considered when purchasing a wheelchair van. A MobilityWorks certified mobility consultant can explain these options to you and the reason why accurate measurements are necessary for planning your purchase.
This illustration shows the various measurements* a mobility consultant may need depending on the type of van being purchased and style of the wheelchair. It is always helpful for the consultant to know the particular make and model of the wheelchair you are currently using.
Having these measurements ready when visiting with a mobility dealer may save you time and an additional trip, especially if the wheelchair (or person in the chair) is not available for the initial consultation. For larger individuals and many power wheel chair models, knowing the weight of the person and the weight of the chair is extremely helpful. Many dealerships have a large roll-on weight scale specifically for this purpose.
Whatever your mobility needs or questions, call MobilityWorks at 877-275-4907 to talk to one of our certified mobility consultant team members. They are here to help you to make a more informed decision.
Download the Wheelchair Measurements PDF.
*These measurements are required for most purchases – A, B, C, G, J
Key Measurement Issues to Consider When Purchasing a Van:
Door Height– Will I be able to easily roll in and out of the van without hitting the top of my head?
Door Height– Will I be able to easily roll in and out of the van without hitting the top of my head?
Ramp or Lift Width – Is my chair too wide to safely and easily roll up and down van ramp?
Ramp or Lift Capacity – Is my combined chair and body weight within capacity specifications?
Belt Strap or Docking Securement – Do I prefer seat belt type of restraint or a docking station, such as an EZ-Lok system?
Tie-Down Locations – Where in the van will I be positioned and how many tie-down points will be needed? Do I need to have retractable tie-downs based on my physical limitations?
Interior Maneuverability – Is the space in the van large enough for me to easily rotate and turn my chair?
Driver and Passenger Positioning – Should I plan on being in the front passenger or driver position – with removable seat bases?
Other Passengers – How many other people will typically be in the van with you? Will they be able to enter and exit frequently without any major inconvenience to you secured in your wheelchair?