Toyota Sienna VMI Summit™ with Access360®
At MobilityWorks you will always find the newest innovations in adaptive equipment. Our Toyota Sienna Summit Access360 offers reliability and usability with industry-leading interior space and headroom. The VMI Toyota Summit provides all of the Access360 conversion benefits with a traditional, fold-out ramp at a price that appeals to the budget-conscious customer.
VMI Summit™ Toyota Sienna Wheelchair Vans for Sale
Power Fold-Out Ramp

Fold-out ramp accommodates larger power chairs with high side rails and a 750-pound capacity.
Interior Space

Clean, uncluttered interior with plenty of space for wheelchair maneuverability.
Fold-Down Footrest

The fold-down footrest offers additional comfort for passengers seated on the rear bench.
VMI Summit™ with Access360® Dimensions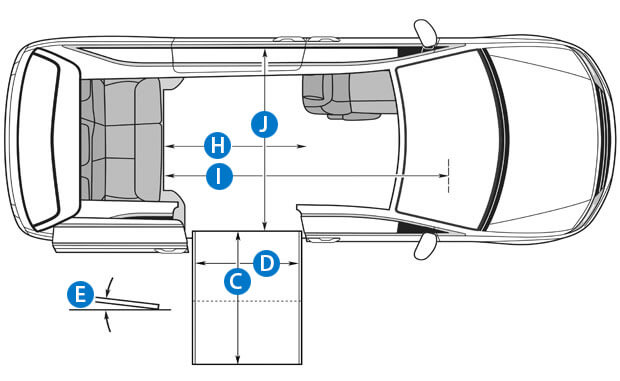 Name of Conversion
VMI Summit Access360™
Make and Model
Toyota Sienna
Fold-Out / In-Floor
Fold-Out
Full / Partial Cut
Full Cut
G
Height at Front Row Position
61"
H
Floor Length (Behind Seats)
65.5"
I
Overall Floor Length (Flat Area)
94.5"
Removable Front Row Seats
Both