BraunAbility Power
In-Floor
The BraunAbility Toyota Hybrid is a spacious and sophisticated sequel to the customer-favorite conversion, now with hybrid technology achieving an impressive 36 MPG across the board. Retaining the impressive cabin space and exceptional ride and handling of the previous models while engineering more ground clearance, more doorway and ramp width, and more passenger comforts and conveniences.
Interior cabin space matches previous model year Toyotas, allowing space for larger power chairs.
Removable "Step & Roll" Seats
The driver and passenger seats can be easily removed to provide wheelchair securement positions in the front of the vehicle.
Wayfinder™ Lighted Ramp System
Luminous LED lighting system helps guide the wheelchair user up and down the ramp. Only available on the in-floor conversion.
BraunAbility Power In-Floor Dimensions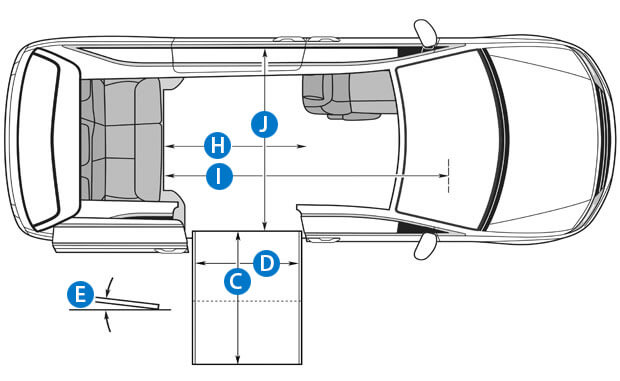 Name of Conversion
BraunAbility Power In-Floor
Make and Model
Toyota Sienna Hybrid
Fold-Out / In-Floor
In-Floor
Full / Partial Cut
Full Cut
G
Height at Front Row Position
57.5"
H
Floor Length (Behind Seats)
57"
I
Overall Floor Length (Flat Area)
89.25"
Removable Front Row Seats
Both