Driverge® Vehicle Innovations Quiet Ride™
Quiet Ride technology significantly diminishes the sounds of conversion equipment often heard in other accessible vehicles, offering a more pleasant experience that does not require drivers or passengers to strain to be heard. When this technology is combined with the smooth maneuverability of the side-entry, drivers will find themselves with a renewed opportunity to enjoy their journey with fewer distractions.
Driverge® Side Entry Power Fold-Out Side Entry Conversion with Quiet Ride Technology
Commercial Flooring System
This vehicle comes with an upgraded specialized flooring package that offers years of durability beyond standard carpeting.
Lower panel ground effects reduce damage from rocks and other road debris.
Driverge® Quiet Ride™ Side-Entry Dimensions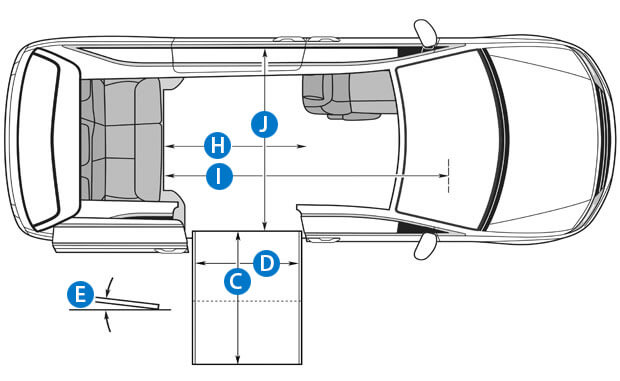 Name of Conversion
Driverge Side-Entry
Make and Model
Dodge Grand Caravan
Fold-Out / In-Floor
Fold-Out
Full / Partial Cut
Partial Cut
G
Height at Front Row Position
"
H
Floor Length (Behind Seats)
56.25"
I
Overall Floor Length (Flat Area)
"
Removable Front Row Seats
No