Wheelchair Vans Delivery in Fort Collins, CO
---

If you're looking for a pre-owned wheelchair van in Fort Collins, CO, MobilityWorks is here to deliver. Our Buy Direct program offers you a more convenient way to purchase a wheelchar accessible vehicle. The Buy Direct team will provide you with the personalized services you need to find the right solution for you and your family.
The Largest Selection of Wheelchair Vans
Free Delivery to Anywhere in the United States5
5-Day Money Back Guarantee16
98+ Company Owned Service Locations
Virtual Needs Analysis
Financing and Leasing Available!
Serving Our Veterans
---
How It Works
We Deliver To Your Neighborhood!
MobilityWorks has been servicing the Fort Collins area since the launch of our Buy Direct program in 2018. We have a wide selection of accessible vehicle options to fit your mobility needs, lifestyle and budget.
With more than 90 locations throughout the United States, we can have your vehicle delivered for pickup at the store closest to you or even deliver it right to your home if you do not live near one of our locations.
Needs Analysis
Our Certified Mobility Consultants will conduct a personalized Needs Analysis, and assess various other factors such as physical capabilities, lifestyle and travel needs, and recommend the most appropriate vehicles to meet your needs.
Extensive Inventory
At MobilityWorks, we offer a wide selection of wheelchair vans that fit your unique needs. Our accessible vehicles come in various sizes such as SUVs, mini and full-sized vans. Our inventory of over 1,000 accessible vehicles allow for an expansive range of options for unique needs such as adaptive driving aids, transfer seats and securement systems specific to the type of wheelchair.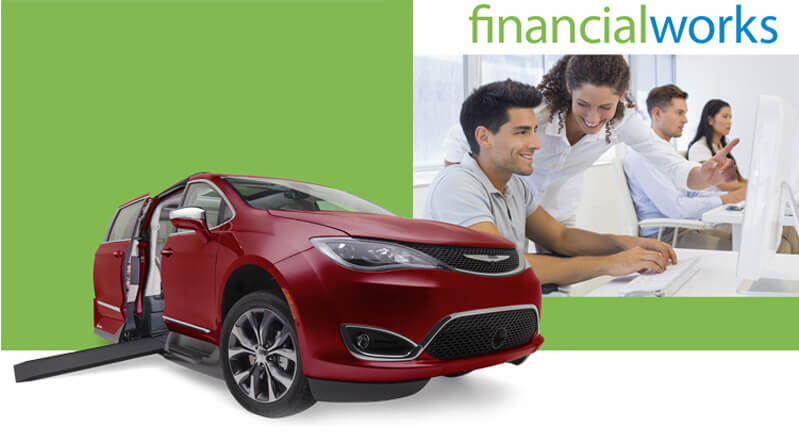 Financing Options
We offer a range of financing options to ensure you will find the right vehicle for your needs and budget. MobilityWorks partners with lenders who offer a no-hassle buying experience, customizing the terms of your financing to meet your budget requirements. A credit application will be completed along with the Needs Analysis, to ensure that both your needs and your budget are considered in your purchase. In addition to financing options, there are also support options such as grant assistance programs that may help fund the purchase if you meet certain requirements.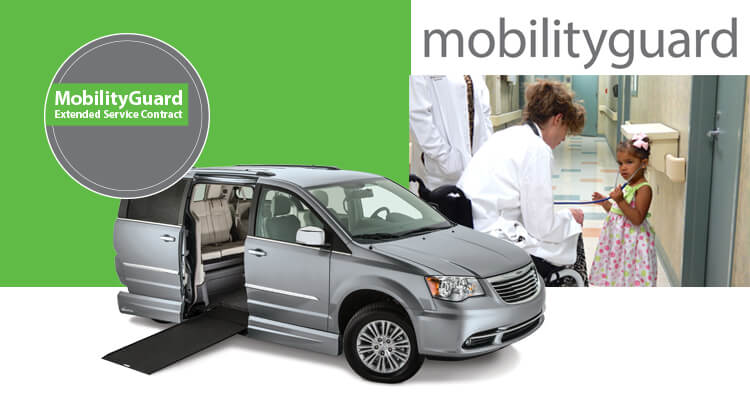 Protect Your Investment
An extended service contract is important to protect your accessible vehicle in the long term. Situations such as out-of-pocket repair expenses, part repair and major mechanical functions can be covered depending on the type of contract you choose. The contracts can range from 12-84 months, up to 150,000 miles, and can cover various repairs. Our Certified Mobility Consultants and Finance Team will work with you to determine the best service contract to meet your needs.
5-Day Money-Back Guarantee
16
Vehicles sold through the MobilityWorks Buy Direct program come with a 5-Day Money Back Guarantee. If you decide you don't love your new vehicle, call us within five days of delivery to return or exchange it.16
Specializing in Wheelchair Accessible Vehicles
You deserve the best Buy Direct support and service after the sale. Your vehicle helps you stay connected, and specializing in the service of mobility equipment is all that we do. Whether you need a repair or routine maintenance, our 98 NMEDA certified MobilityWorks locations are here to serve you.
Two Choices for Flexible Delivery
Regardless of your proximity to one of our MobilityWorks locations, we will provide options for you to receive your vehicle quickly and easily. If your desired vehicle is at a different location from the one closest to you, we can have it delivered to your location. If you do not live near one of our locations, we can deliver the vehicle directly to you with the associated paperwork completed ahead of time or even send the paperwork along with the vehicle.
Delivered to Your Home
This hassle-free option enables you to have the vehicle delivered directly to your home. The purchase documents will be sent ahead of time so they can be completed and submitted at the time of delivery.
In-Store Pickup
You can purchase a vehicle from any of our locations, and have it delivered to your closest location and pick it up at your convenience. A Certified Mobility Consultant will walk you through the vehicle features and paperwork.
Product and 360 Videos