VMI Honda Odyssey Northstar® Power In-Floor
Our Honda Odyssey Northstar is a premium wheelchair conversion van providing industry-best flexibility, ease of use and functional aesthetics.The VMI Honda Northstar in-floor ramp conversion is a perfect blend of performance, safety and style, making it an excellent option for both manual and power chair users.
VMI Northstar® Honda Odyssey Wheelchair Vans for Sale
High Capacity Ramp

Power in-floor ramp has a wider usable area and an 800-pound weight capacity to accommodate any wheelchair.
Removable Seats

The obstacle-free front row accommodates wheelchairs of almost any size in the driver and front-passenger areas.
Electronic Backup

SURE DEPLOY™ backup system ensures ramp will stow and deploy, even during an electrical failure.
VMI Northstar® Power In-Floor Dimensions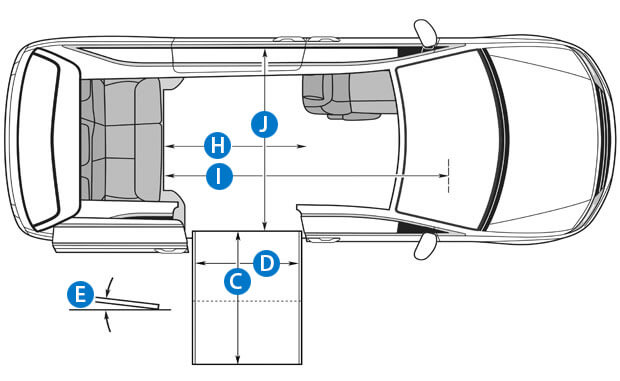 Name of Conversion
VMI Northstar® Power Infloor
Make and Model
Honda Odyssey
Fold-Out / In-Floor
In-Floor
Full / Partial Cut
Full Cut
G
Height at Front Row Position
58.3"
H
Floor Length (Behind Seats)
62"
I
Overall Floor Length (Flat Area)
91"
Removable Front Row Seats
Both