Dodge Grand Caravan with BraunAbility CompanionVan® Easy Ramp Conversion
The CompanionVan conversion is ideal for wheelchair users who always travel with a companion. One of three options in the CompanionVan series is the Companion Van Easy Ramp. A power side-entry conversion that has a lowered floor in the mid-section of the van only with the front seats being static and the wheelchair securements only available in the center of the vehicle. Because only a portion of the vehicle's floor is lowered, this is a budget-friendly option for a family on the go.
The CompanionVan® Easy Ramp floor is lowered between the rear bench seat and the back of the front seats, providing 55" of space for a wheelchair to be secured in the mid-row position. Tiedown tracks and a belt system are included.
One-push remote button deploys and stows the ramp – no bending or lifting!
BraunAbility® Manual CompanionVan® Easy Ramp Dimensions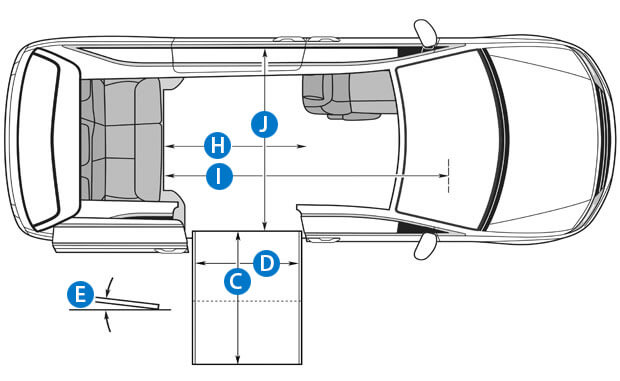 Name of Conversion
CompanionVan Easy Ramp
Make and Model
Dodge Grand Caravan
Fold-Out / In-Floor
Fold-Out
Full / Partial Cut
Partial Cut
G
Height at Front Row Position
"
H
Floor Length (Behind Seats)
55"
I
Overall Floor Length (Flat Area)
55"
Removable Front Row Seats
No